About
PAINWeek is the favorite destination for frontline practitioners to enhance their competence in pain management.
Who Should Attend
Accreditation will be provided for physicians, physician assistants, nurse practitioners, nurses, pharmacists, hospitalists, physical therapists, and psychologists.
PAINWeek Live Virtual Conference
The PAINWeek Live Virtual Conference will provide an expansive, multidisciplinary curriculum of 72 CE/CME hours presented by current and emerging thought leaders. An additional 45 hours of certified content will be provided as an enduring, on demand activity for a total of 120 hours. This year, we are launching a new subscription option, which will allow you to select the learning model that best fits you. While some practitioners may opt to only attend the 3-day live virtual conference, others may prefer to attend AND have access to the entire catalog of educational offerings over the year.
WHY ATTEND
World Class Continuing Education
Over 100 hours of the most up-to-date evidence-based scientific instruction available
Practical, clinically-focused educational sessions
Faculty who are leaders in their field
Virtual interactions with expert speakers during the conference
Networking with colleagues in pain management
The conference of choice for busy pain professionals
Multiple session offerings allowing you to choose the best fit for your educational needs
Exhibiting companies inviting you to visit and browse new products, see demonstrations, and ask questions
Virtual = Easy! The PAINWeek Live Virtual Conference will be:
Easy-to-use interface
No app or software to download (requires internet browser)
Mobile friendly
Free live tech and US-based phone support (during conference hours)
Mac and PC compatible
Register Now
Register here if you are a practicing healthcare professional, resident, or student. This information will be verified by PAINWeek staff prior to confirmation of your registration.
Practicing Healthcare Professionals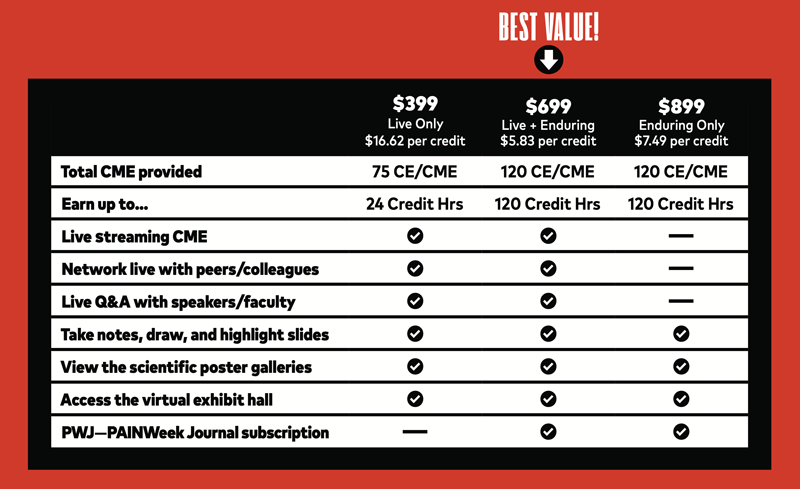 Featured Sessions
• Triple Threat or Epiphany? The Need for a Biopsychosocial Approach to Pain Management
• Evidenced-Based Rationale for Interventional Procedures as an Alternative to Medication Management
• The Perseverance Loop: Inside the Psychology of Pain Perception
• The Courtroom Crusades: A 20/20 Examination of Controlled Substance Prescribing Standards
• The Evil Quintuplets: Endometriosis and Other Chronic Pelvic Pain Etiologies
• Fundamentals of Neuromodulation
• What's Going On? Race, Class, and Gender Issues in Pain Management
• Telemedicine: The Future is Now
• Aching for Improvement: Review of the Gaps and Latest Advances in Osteoarthritis Pain
and Other Chronic Pain Management - Presented by Rockpointe
And MUCH MORE!
Exhibit Hall
Click here to download the PAINWeek Live Virtual Conference Exhibit Application.
Please contact Mike Shaffer, ms@painweek.com, for more information.
Check out the video below for Exhibit & Sponsorship Opportunities
Click here to download the PAINWeek Live Virtual Conference Exhibit Application.
Exhibits & Sponsorship Prospectus