Live Webinar: COVID-19 Preparedness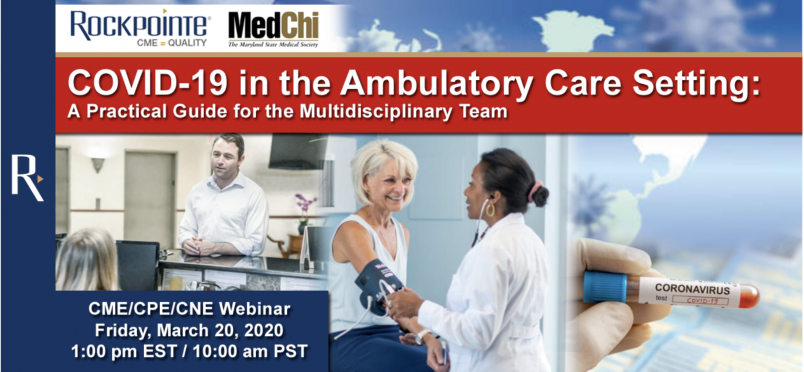 Rockpointe, MedChi, & Others Host Live COVID-19 CME
With the world in the throes of the COVID-19 pandemic, Rockpointe, a leading continuing medical education (CME) creator in collaboration with MedChi the Maryland State Medical Society, and other collaborating organizations will host a second live COVID-19 CME-certified webinar on Friday, March 20, in an effort to prepare healthcare providers who work in an ambulatory-care setting to properly manage patients who present to their outpatient facility with symptoms of COVID-19.
The webinar, "COVID-19 in the Ambulatory Care Setting," is jointly provided by the Potomac Center for Medical Education (PCME) and is designed to be a practical guide for clinicians who work in outpatient settings, such as ambulatory-care offices, clinics, or urgent-care facilities. This free 1.5-hour webinar will begin at 1 p.m. EST (noon CST / 10 a.m. PST). In addition, an enduring, interactive version of the content will then be available on-demand for 24 months on the Rockpointe website, www.rockpointe.com.
Cases of COVID-19, also known as Wuhan Coronavirus, the disease caused by SARS-CoV-2, have soared past 150,000 worldwide and past 3,000 in the United States, with more than 6,500 deaths around the globe. On March 11, WHO labeled COVID-19 a pandemic and on March 13, the President declared COVID-19 a national emergency. The complete clinical picture of COVID-19 is not fully understood, but SARS-CoV-2 has been demonstrated to have person-to-person transmission. The illness has a range of severity from mild to fatal, and this threat to public health is the greatest challenge of our generation.
While there has been much information available regarding identification and management of patients with COVID-19 who present to hospitals, Rockpointe realized that very few resources have been offered for healthcare providers who work in the outpatient setting – including physicians, nurses, and pharmacists. "How should a healthcare provider proceed when a patient comes to a private office, clinic, or urgent-care facility with a presentation consistent with COVID-19? A great many patients will take this route as opposed to going to a hospital first, and we wanted to provide accredited resources for this exact situation, to help curb this emerging health crisis" says Tom Sullivan, President of Rockpointe Corporation.
This webinar will provide the most current information on how to address patients who present with symptoms of COVID-19 in an ambulatory-care office.
Topics will include what to do about patient isolation in the office; what specimens to obtain, how to obtain them, and where to send them to be tested; how and to whom a potential case should be reported; deciding on patient disposition; and cleaning and disinfecting after the patient leaves. The activity is intended for U.S. and Canadian healthcare professionals who manage patients in the ambulatory care setting.
At its conclusion, participants should be able to:
Develop protocols that address the situation of a patient with suspected COVID-19 in the ambulatory-care setting, including a private office, clinic, or urgent-care facility.
Indicate which specimens to obtain from a patient with suspected COVID-19 and send those samples to a laboratory capable of testing them.
Determine an appropriate disposition for a patient suspected of having COVID-19.
Describe measures needed to clean and disinfect the office after a patient suspected of having COVID-19 departs.
This activity has been planned and implemented in accordance with the accreditation requirements and policies of the Accreditation Council for Continuing Medical Education (ACCME) through the joint providership of the Potomac Center for Medical Education (PCME) and Rockpointe. The Maryland Nurses Association (MNA) will be the provider of nursing contact hours. Collaborating organizations include MedChi, the Maryland Medical Society; the American Lung Association; the American Nurses Association (ANA); and the CME Coalition. This activity is not supported by any commercial interest or grantor.
As an ACCME-accredited provider, PCME will provide the AMA PRA Category 1 Credit™ for this program. Physician assistants, nurse practitioners, and nurses may participate and earn a certificate of completion, as AAPA, AANP, and ANCC accept AMA PRA Category 1 Credits™ through their reciprocity agreements.
As an ACPE-accredited provider, PCME will provide the pharmacy contact hours (CEUs) for the live webinar and enduring webcourse.
This activity has been submitted to the Maryland Nurses Association for approval to award contact hours. The Maryland Nurses Association is accredited as an approver of nursing continuing professional development by the American Nurses Credentialing Center's Commission on Accreditation.
MedChi is working in collaboration with Rockpointe and PCME on this activity. According to Thomas Sullivan, President of Rockpointe, "our goal in partnering with MedChi for this webcourse is to help dispel some of the myths and misinformation associated with this deadly emerging disease and provide practical guidance to clinicians who may encounter infected patients or patient concerns."
To register for the COVID-19 live webinar (scheduled for Friday March 20th at 1:00pm Eastern), go to https://www.pathlms.com/rockpointe/courses/16818 or click here.
Read about the CME webinar. 
Did you enjoy this article?
Subscribe to the PAINWeek Newsletter
and get our latest articles and more direct to your inbox